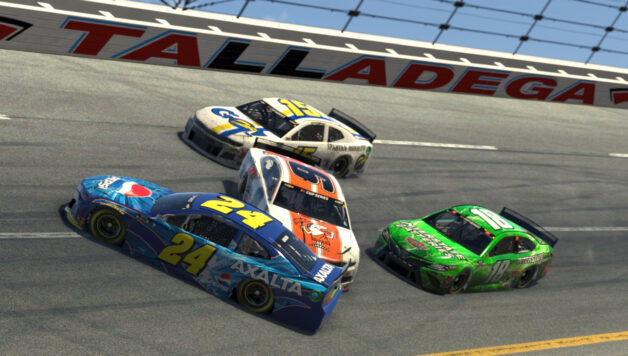 Despite failing to earn lead-lap finish, Jeff Gordon enjoys iRacing debut at Talladega
(Virtual) TALLADEGA, Ala. — Four-time NASCAR champion Jeff Gordon didn't win the Geico 70 nor did he finish on the lead lap, but he still had the time of his life sitting in an iRacing rig on Sunday. 
Gordon hasn't been a full-time NASCAR driver since 2015, but he still seems as competitive as ever. On the last restart of the race, he said he was jealous of the drivers who got the chance to go for the win while he was out of contention.
Gordon was multitasking on Sunday afternoon — he was driving the No. 24 Pepsi Chevrolet with the scheme that he took to victory lane at Talladega Superspeedway in 2004, and he was commentating Fox Sports' television broadcast.
He started 29th and came home 38th.
Gordon was involved in one of Talladega's notorious "Big Ones" on Lap 11, and it sent the No. 24 spiraling through the air.
Have you landed yet, @JeffGordonWeb?

The Big One strikes with a vengeance early at @TalladegaSuperS. pic.twitter.com/c3WGnVJK0P

— NASCAR (@NASCAR) April 26, 2020
Today, we're thankful for resets.#ProInvitationalSeries | @TalladegaSuperS pic.twitter.com/ma0hE9KwrN

— NASCAR (@NASCAR) April 26, 2020
Fortunately, drivers were equipped with one reset, so Gordon was able to resume racing. But he got caught in a wreck with Chase Elliott and Brennan Poole in the closing laps, too.
Have you ever wrecked you boss?@chaseelliott | @JeffGordonWeb pic.twitter.com/mWrjtSWAjU

— NASCAR (@NASCAR) April 26, 2020
The @AxaltaRacing/@Pepsi #24 finishes nine laps down in 38th at @TalladegaSuperS after getting caught up in a late race wreck.@NASCARONFOX iRacing.@FOXTV, @FS1 & @FOXSports app.https://t.co/7HDoLnshbc#ProInvitationalSeries #NASCAR #TeamJG pic.twitter.com/rOdaCfwEAk

— Jeff Gordon (@JeffGordonWeb) April 26, 2020
Gordon's Hendrick Motorsports teammate Alex Bowman won. His margin of victory over Corey Lajoie was 0.037 seconds. 
Altogether, three retired NASCAR stars competed on Sunday. Dale Earnhardt Jr. and Bobby Labonte were in the race, too, as they have been since the Pro Invitational Series began last month.
Jeff Gordon, Bobby Labonte, and Dale Jr. are all in a #NASCAR race today. What a time to be alive.

— John Haverlin (@JohnHaverlin) April 26, 2020
The last time these three drivers raced together was the NASCAR Cup Series race at Talladega in October 2015. 
Photo: NASCAR Media