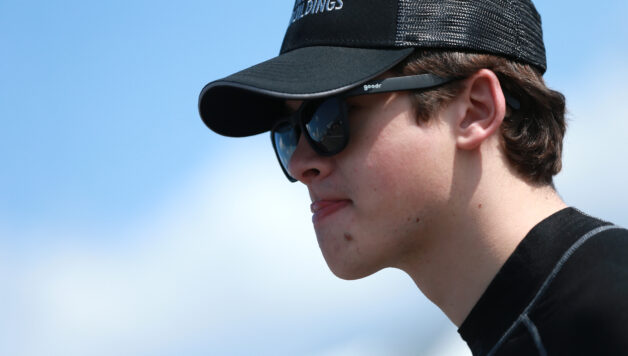 Once underachieving youngsters are proving they can contend in NASCAR's Xfinity Series
If you thought the 2020 NASCAR Xfinity Series campaign might be a battle merely between drivers such as Justin Allgaier and Chase Briscoe, it looks like you could be wrong.
Harrison Burton, the Toyota driver who missed the Truck Series postseason with Kyle Busch Motorsports last year, won his first career Xfinity race at Auto Club Speedway in Southern California on Saturday.
Burton's Joe Gibbs Racing teammate Riley Herbst finished second. The third JGR driver Brandon Jones dominated early from the pole, won the first two stages, and ultimately finished 30th because of an accident.
All three faced scrutiny at one point in their career. Burton's playoff miss last year was criticized heavily. Herbst and Jones have been deemed untalented by the keyboard warriors of social media. The thing they all have in common is that they were all labeled as the silver spoon kid with a rich father that can fund their racing career.
"As a driver, your duty is to be on social media. Your job is to grow your brand, grow your company's brand," Burton said. "My team, my company always believed in me, and I always kind of use them as motivation. Even Jimmie Johnson gets hate on Twitter. The guy is probably one of the best of all time and Kyle Busch wins every week and people tell him he sucks.
"It's just how it is, it's how the sport is and if you use it right, it's super powerful and can motivate you to be better. That's kind of what my whole team around me has been preaching and preaching. They knew I was coming off of a rough year last year and they knew that we could do it as a team. It was good to have them behind me. I never really believed them, it just gets frustrating after a while not to win."
The same goes for Noah Gragson and Austin Cindric, too. Gragson got caught up in a wreck after a restart, but he won Daytona to kick-off 2020. Cindric, the son of Team Penske President Tim Cindric, finished third at Auto Club.
Gragson has had moderate results in his young NASCAR career. He had two truck wins with KBM in two seasons. He went winless in his rookie Xfinity season, though. Cindric won one truck event, and two of the road course races on the Xfinity schedule last year. He hasn't shown prowess on the ovals yet, but that looks poised to change now that he has two full Xfinity seasons under his belt.
Is the talent pool not as great this season? That might be somewhat true. The 2019 Xfinity Series featured "The Big Three" of Christopher Bell, Cole Custer, and Tyler Reddick, who won 21 of the 33 races and are all now Cup Series rookies. But Briscoe is still in the field. So is Allgaier, the veteran. Don't forget Daniel Hemric and Ross Chastain, who have earned rides based on merit in the past, either.
The Xfinity championship doesn't appear to be as watered down as some fans might have initially thought. Briscoe led 16 laps at the Southern California track in the final stage until spinning out but won at Las Vegas last weekend, so he might appear to be the favorite for the title. At the start of the season, he talked about high expectations for 2020, including his notable "eight wins" remark that has circulated across the Twittersphere.
But it looks like he'll have to fight for it, at least.
Photo: Sean Gardner / Getty Images