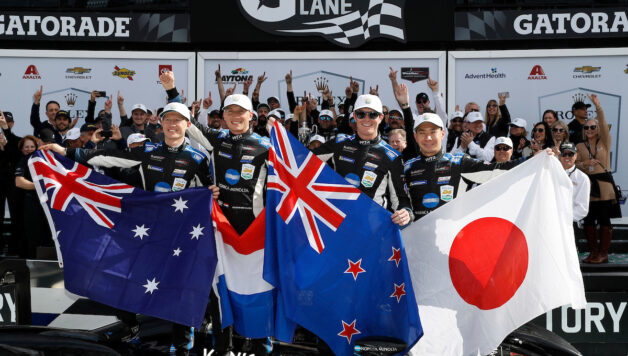 Three teams earn consecutive Rolex 24 wins in landmark weekend at Daytona
Wayne Taylor Racing, DragonSpeed, and BMW Team RLL each earned their second consecutive win in the Rolex 24 at Daytona International Speedway on Sunday.
WTR once again achieved the overall victory in the DPi class with the Konica Minolta Cadillac DPi-V.R. The No. 10 Prototype featured two new drivers to its 2020 lineup, though. Five-time IndyCar champion Scott Dixon and his former Chip Ganassi Racing teammate Ryan Briscoe joined the team as the Ganassi Ford GT program shut down at the end of the 2019 IMSA season.
Meanwhile, Jordan Taylor left his family's team to compete in the GTLM class with Corvette for the 2020 IMSA campaign. And Fernando Alonso was busy racing in the Dakar Rally for Toyota earlier this month.
It was the team's third Rolex 24 win in four years, but it was without the Taylor sons for the first time in a decade. Ricky, the older brother who competes in the DPi class with Acura Team Penske, still took a moment to congratulate his father's win shortly after the checkered flag waved.
"Congratulations Dad, @WayneTaylorRcng, @Ryan_Briscoe , @scottdixon9 , @kamui_kobayashi and @Rengervdz!! Dominant win!!" he tweeted.
DragonSpeed took the LMP2 class win with Ben Hanley, Henrik Hedman, Colin Braun, and Harrison Newey. It was the first IMSA victory for each driver except the veteran Braun, who has now won 18 times in the series.
BMW Team RLL won the GTLM class for the second consecutive year. However, like DragonSpeed, it was the team's other entry to earn the Rolex watches. Chaz Mostert, Jesse Krohn, John Edwards, and Augusto Farfus were the winning drivers this year. Throughout the race, the GTLM class feature intense battles between the Porsches and BMWs.
Edwards had 11 career IMSA wins entering this weekend's event but had never finished in the top-three in the series' marquee race.
"I've never even finished on the podium here," he said. "Daytona has treated me so badly in the past. I think this might be my 10th time here.
"It's hard to believe. It was hard to watch at the end. I had never been so anxious in my entire life. I looked at Chaz, and he was cool as a cucumber, rocking his Casio calculator watch. I'm a little concerned about him; now he's got this nice Rolex.
"The guys at BMW, despite all the hardships we've had over the past few years, never lost faith in me or Jesse and it feels really nice to get one for them today."
The GTD class featured the only new winner of the race. Paul Miller Racing won its first Rolex 24 with Madison Snow, Bryan Sellers, Corey Lewis, and Andrea Caldarelli piloting the Lamborghini Huracan GT3.
The 2020 Rolex 24 will be remembered for the landmark announcement that was made by IMSA and the ACO on Friday. As of 2022, the new top-class LMHd Prototype vehicles will be able to compete in both IMSA and WEC. So, in theory, the WTR Cadillac could win the 24 Hours of Le Mans two years from now, and the Toyota Gazoo Racing team could win Daytona and the 12 Hours of Sebring.
This convergence will allow many more drivers, teams, and manufacturers to compete for the "Triple Crown" of endurance racing in the same calendar year again. One scenario that could come of this joining is Team Penske running at Le Mans. Penske sports car driver Juan Pablo Montoya has won the Indianapolis 500 and the Monaco Grand Prix.
While Alonso's pursuit of the motorsport "Triple Crown" has been at the forefront of international auto racing attention the last two years, Montoya could pull off the feat in stealth fashion if he and Penske attempt to race at Circuit de la Sarthe.
Also of note from the 58th running of the event was two-time NASCAR Cup Series champion Kyle Busch's IMSA debut. Busch completed a single, double, triple, and one more double stint in the No. 14 Lexus RCF GT3 for AIM Vasser Sullivan alongside Jack Hawksworth, Parker Chase, and Michael de Quesada.
They finished ninth out of 18 cars in the GTD class and were never in contention for a podium. The No. 14 started 16th in class because the team swapped engines and couldn't qualify on Thursday. Then during the race, it suffered a brake issue on a pit stop.
Busch was impressive in his first time racing a GT car as he was able to gain back a lap and two positions during his stints. But the car still finished eight laps down to the winning Paul Miller car.
"There was a lot going on and a lot to learn, pick up on, and figure out. But overall, it was good, and we had a lot of fun," he said. "I enjoyed it just being able to get back in a racecar again as kind of a season warm-up if you will, and get out there, running a ton of laps and having a good go of it."
Would Busch like to do it again? It's possible.
"Let me digest this one first," he told NBC Sports. "Let me get through that. But I'd like to do it again. I think coming out here and having a chance to go at a victory would certainly be cool to race for at the end, like some of those guys were (in the other) classes. It would be pretty fun."
The defending NASCAR champion will go for his first Daytona 500 victory next month. He finished second to Joe Gibbs Racing teammate Denny Hamlin in it last year.
Photo: Michael L. Levitt / LAT Images for IMSA