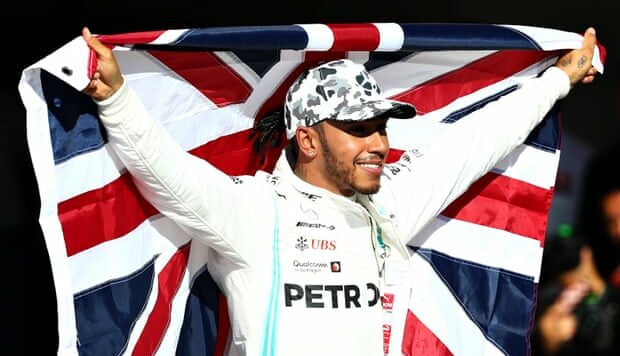 A profound Lewis Hamilton shares thoughts about life, career after winning sixth F1 title
AUSTIN, Texas — The champagne was sprayed. The confetti flew. He held his trophy high, and thousands of fans cheered from the track while millions more did the same from home.
Life must be perfect. How could it not? If you're Lewis Hamilton, you could drop everything right now, retire from Formula 1, and sleep well knowing that you, your family, and any children you might have in the future would never have to worry about money again.
He has the fame and certainly has the fortune. Winning six world titles at the pinnacle of auto racing has only been achieved twice now, and with that, the legacy that was already established only becomes greater.
But Hamilton didn't know how to feel about it after Sunday's United States Grand Prix. It's like he was overwhelmed. He grinned as he conversed with team members, reporters, and anyone else that could get close enough to talk to him. But it's hard to tell if it was authentic or not. Was he really that happy? He was quite mellow when he sat at the press conference table.
"How am I supposed to feel?" he said. "I remember watching this sport in the morning when I was younger. … It's beyond surreal that my life journey has brought me to winning a sixth world title."
Hamilton spoke about recently battling demons. Some things have brought down his spirit and made it difficult for him to deal with everyday life. Two weeks ago, Hamilton posted an Instagram story that read: "Honestly, I feel like giving up on everything. Shut down completely. Why bother when the world is such a mess, and people don't seem to care. I'm going to take a moment away to gather my thoughts. Thank you to those of you who do give a damn about the world."
He continued: "Extinction of our race is becoming more and more likely as we overuse our resources. Agriculture farming is the largest pollutant we currently have by over 50 percent, far more than our travel industry combined. I'm sad to see so many people, even close friends, ignore what is happening daily. We were taught that eating animal products was good for us, but we've been lied to for hundreds of years.
"I want my life to mean something, and honestly up until now my life has had no meaning."
In the aftermath of this post, millions of followers reached out with loving and supportive messages. But everyone wondered what prompted such a depressing post.
"Is he OK?"
Hamilton has become a tremendous advocate of environmental preservation. He has been on a vegan diet for nearly two years, sold his private jet, and often posts photos and videos on Instagram that expose brutality against animals or parts of the world that suffer from enormous pollution.
It's obvious he cares about the earth, but it still feels like there is something more. One reporter asked why he chose to bring up "demons" during the presser of his sixth world title, and Hamilton didn't want to elaborate.
That's fair, though. He's allowed to have personal thoughts. We all do. But living a high-profile life can be emotionally strenuous on a person. Having time to process those thoughts can be scarce for a celebrity, and it seems that it might be affecting Hamilton.
Wins and championships don't motivate him. His goal isn't to surpass Michael Schumacher on the all-time wins or titles list, although it looks like a possibility in the years to come. He said that when he wakes up in the morning, he tells himself that he can be great and improve himself as long as he stays focused. That's been especially crucial for the Mercedes driver in what he called the most challenging season.
"No way has it been the easiest," he said. "Its been the hardest year for us on the team. We lost Niki (Lauda) this year, who has been a crucial part of this team. … Outside the car, just trying to remain focused throughout the year.
"This was the toughest second half of the season we have ever had as a team. … From the outside, things always look great, but that's not always the case."
Hamilton didn't offer any hints that point to a possible retirement. He said he is committed to winning more with two races left this season and more in 2020. As a driver, that's always the task-at-hand.
It's not that trophies and championships have become mundane for him. He still works hard like any other driver on the grid to earn them. But perhaps he realizes that there is more to life than cups and titles. As the saying goes, "The grass is always greener on the other side."
It's crazy to think Hamilton could be feeling that way. It might come off as shallow for him to think that nothing matters or maybe that he should just give up. He's a superstar athlete and fashionista who can have all the material items the world has to offer. Billions of people around the world wish they could live the lavish lifestyle he does.
What does he have? On paper, he has six world titles, 83 wins, and a $45 million yearly salary. He has a luxurious London mansion, the love of millions around the world, friendships with movie actors and musicians, and a God-like talent behind the steering wheel.
Or maybe he has nothing.
Photo: Mark Thompson / Getty Images