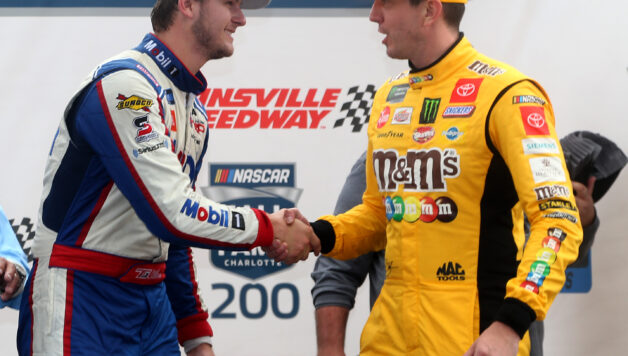 Was Todd Gilliland's post-win outburst about Kyle Busch warranted?
After Kyle Busch Motorsports driver Todd Gilliland won Saturday's NASCAR Truck Series race at Martinsville Speedway, Gilliland unleased a brief outburst toward his team owner.
"You guys are the best! Kyle Busch, you can stay in your fucking motor home," Gilliland screamed over the team radio after crossing the finish line.
AUDIO pic.twitter.com/4wKfe4z8jy

— Luis Torres (@TheLTFiles) October 26, 2019
If you curse out your boss, it will usually land you in deep trouble. You'll probably lose your job. But auto racing isn't like the everyday job that we all have. As a racer, you need a fiery personality and can never settle to be anything less than first. And that's why Busch is letting this one go.
.@KyleBusch went to congratulate @ToddGilliland_ on his first career win in the @NASCAR_Trucks Series. pic.twitter.com/CfvVOteUYB

— NASCAR on NBC (@NASCARonNBC) October 26, 2019
Busch has been critical of his drivers all year. Neither Gilliland or Harrison Burton had won until Gilliland's Saturday triumph. Busch gave them a "2 out of 10" in June, adding that they "ain't done shit."
There's been tension building within KBM. The team is accustomed to winning multiple races every year. It's transcended the careers of superstar-caliber drivers like Erik Jones, William Byron, Christopher Bell, and Darrell Wallace Jr., to name a few.
It's not like Burton and Gilliland haven't been trying hard enough. They just have not been getting the results they expected, and it's been frustrating for themselves and their boss. So when Gilliland exorbitantly told Busch to stay in his motor home, it was essentially a sigh of relief and a way of telling Busch that he can now eat his critical words.
"It was the heat of the moment, really. Just a lot of emotions," Gilliland said. "Everyone has heard what he said. Obviously, it's true; we should have been running better. … I kind of wish I didn't say it now. But he said some stuff about me. It is what it is."
Busch and Gilliland are "even" now. Of course, it's not a good look when a boss — no matter the job — publicly criticizes his employees, but now the favor has been returned less negatively by Gilliland. Busch can stay in the motor home and not have to jump into one of the trucks himself to get his team a trophy.
Even if Gilliland isn't with KBM beyond this season, it won't be the result of his radio banter. He has underperformed in two seasons with KBM. The team has other youngsters looking for an opportunity to go full-time in recently-crowned ARCA champion Christian Eckes and Raphael Lessard. With Burton moving to Joe Gibbs Racing's Xfinity Series program, KBM could have two vacant seats in 2020.
"Honestly, I have no idea what is going on for next year," Gilliland said. "Results equal opportunities. We haven't had either. It's tough. Racing is a result-driven sport, and when you don't have them, stuff doesn't happen."
Gilliland publicly apologized to Busch via Twitter on Saturday night: "I want to apologize to @KyleBusch for what I said after the race. My emotions got the best of me obviously and a lot went through my head as I took the checkered. Two more wins to chase."
Photo: Brian Lawdermilk / Getty Images