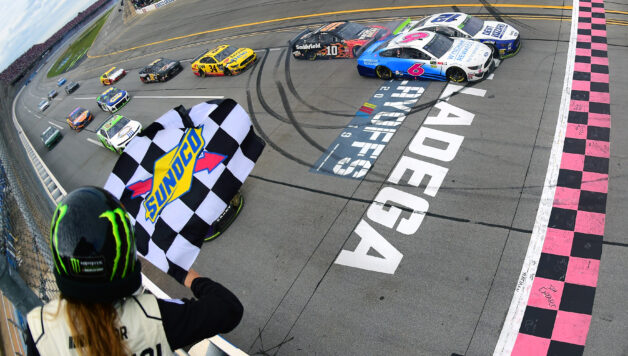 Chevrolet's controversial team orders ineffective, thankfully, as Ryan Blaney wins Talladega
Despite the hopes of General Motors motorsports lord Jim Campbell and Team Chevrolet, Ryan Blaney and Ford Performance won the race and manufacturer battle at Talladega Superspeedway on Monday.
Blaney beat fellow Ford driver Ryan Newman by .007 seconds at the line, making it the sixth closest finish in NASCAR Cup Series history. Toyota's Denny Hamlin finished third, while Ford's Aric Almirola and Michael McDowell were fourth and fifth, respectively.
Campbell wanted the Chevy drivers to work together at all costs to give the manufacturer a victory. During the rain delay after Stage 1 on Sunday, he called a meeting to mandate the Bowtie wheelmen to draft together in a single-file line and march to the front of the field to ensure a win.
Before we delve into the ethical and political implications of this conference, let's note that the highest-finishing Chevy driver was Austin Dillon, who came home sixth. Eight Chevys posted DNFs, including Kyle Larson, Jimmie Johnson, and Alex Bowman, who were all caught up in a wreck after Bowman attempted to block Joey Logano for the lead on Lap 108.
Not too good for the manufacturer that was hoping to manipulate the race.
Campbell is the vice president of Chevy's performance department. Obviously, his priority is getting a Chevy into victory lane, no matter the discipline of auto racing that is transpiring. But at what cost? What does he have to gain by telling his drivers to remain single-file for one Talladega race when there are still five more races before a champion is decided?
Chevy was NASCAR's dominant OEM from 2001 through 2015. The company won 14 of the 15 Manufacturer's Championships in that span but has lost to Toyota and Ford the last three years. Toyota won two consecutive titles in 2016 and 2017, and Ford won it last year. Chevy endured tremendous hardships in 2018 as the switch from the SS to the Camaro body necessitated an adjustment period. Austin Dillon won the 2018 Daytona 500, but that was the only Chevy victory until Chase Elliott's Watkins Glen triumph nearly six months later.
Chevy doesn't have the speed Toyotas and Fords do right now. Elliott and Larson have carried the flag for the manufacturer this season, but almost everyone else is struggling. Jimmie Johnson, the seven-time Cup champ, hasn't won in more than two years. Richard Childress Racing has been awful. Hendrick Motorsports is good, but far from what they once were in the Jeff Gordon era.
It seems like Campbell felt the need to put a sense of urgency in the Chevy drivers. Chevy hasn't had a Championship 4 contender at Homestead-Miami Speedway since 2016. Winning at Talladega with a playoff driver would guarantee a second man into the Round of 8, thus improving the chances of one of them advancing to the final four.
But mandating team orders at the racetrack, where media and fans are present, is an abhorrent idea. If anything, organize an undisclosed meeting before getting to the track for the weekend, where it would less likely cause a commotion. Or better yet, don't give team orders at all. NASCAR is an entertainment industry, and fans deserve the best show possible. Without them, there would be no racing.
Campbell abused his power in a Formula 1 team boss style, but worse. In F1, team orders, although not popular, are still seen as somewhat acceptable since they can only be applied to two cars to maximize point earnings. If Mercedes boss Toto Wolff wants Valtteri Bottas to let Lewis Hamilton by, that's one thing. But imagine if Wolff wished to control the race strategies of the other Mercedes-powered teams. That'd be six cars altogether out of 20 in the field.
For the Talladega race, 18 of the 40 cars were Chevys. Having that much power threatens the purity and integrity of the competition. Auto racing is no longer a sport at point; it's more like a political venture.
Having three or four drivers from the same team working together hasn't been a significant problem in the past. But NASCAR manufacturers are trending toward a direction where nine or 10 drivers might be forced into an alliance. Not only does that force teams to change their race strategies, but it forces drivers to change their mindset from "I want to win for myself" to "I might need to help a rival in the same car brand win so a different manufacturer can't."
If Chevy had successfully controlled the race with a single-file run, it would not have been an entertaining event. Just hope that manufacturer alliances don't kill the excitement of three-wide pack racing at superspeedways in the future. It will destroy the intensity and exhilaration fans have come to love and see four times per year at Daytona and Talladega.
Photo: Jared C. Tilton / Getty Images