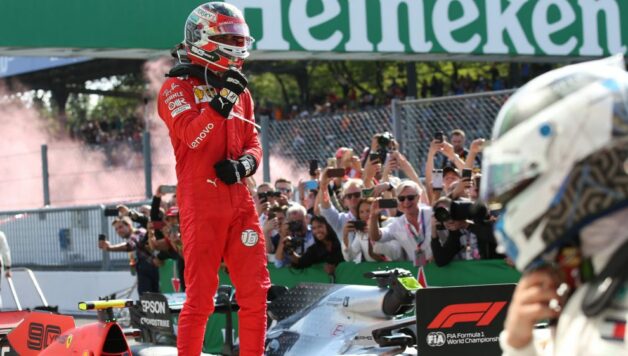 Charles Leclerc gives Ferrari a home victory at Monza
When Charles Leclerc joined Ferrari at the end of 2018, he said his two goals for this season were to win at Monaco, his home race, and Monza.
Getting two wins for the 21-year-old in his first year with the legendary Formula 1 team was a reasonable task. There were undoubtedly going to be races where the Mercedes or Red Bulls would have the advantages. And outrunning the four-time champion teammate Sebastian Vettel would be difficult as well. But for Ferrari, Spa-Francorchamps and Monza were circled on the calendar as places they could potentially take the checkered.
Spa and Monza are two of F1's famous power circuits, and Ferrari tends to excel at these venues because they require a considerable amount of straight-line speed. That's Ferrari's bread and butter. The Italian squad is second-tier to Mercedes, but the one thing they are better at is producing raw speed on the bigger tracks with lengthy straights. It's really the only time having less downforce can be an advantage in racing.
So it wasn't a shock that Leclerc was able to win his first two Grands Prix of his career in consecutive races. He finally got the elusive win at the Belgian Grand Prix last weekend and followed it up on Sunday with victory No. 2 over Mercedes wheelmen Valtteri Bottas and title leader Lewis Hamilton.
Ultimately, Leclerc will have to wait until 2020 to see both of his goals come to fruition. Winning at Monaco proved to be an unfeasible task this year, but winning in front of the Tifosi fans at Monza was something he'll never forget.
"I think if you have to win one Grand Prix with Ferrari, it's the Italian Grand Prix," he said. "From the beginning of the week it's been absolutely crazy, I came here with my first win, and to win straight away the second one here in front of all the fans that have welcomed me extremely well after the first victory, is just unbelievable."
Two-thirds of the 21-race schedule are complete with the Singapore Grand Prix as the next event in two weeks. Hamilton holds a comfortable 63-point lead over Bottas while the only other driver within 100 points of him is Max Verstappen, who is 99 marks out.
Photo: F1.com