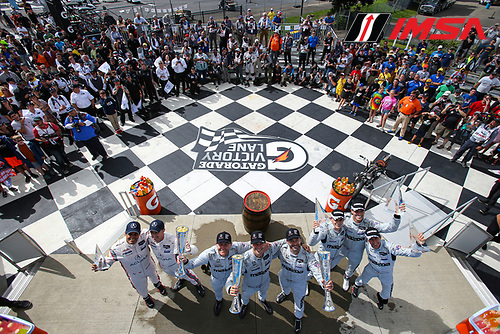 The three national NASCAR series competed at Chicagoland Speedway this weekend. Formula 1 saw an exciting race at the Red Bull Ring in Austria. And there was a new DPi winner at the Six Hours of the Glen.
Cup: Bowman's unpredictable rise to the top
If you told Alex Bowman during his rookie season in 2014 that he'd be a NASCAR Cup Series race winner with Hendrick Motorsports within five years, he probably would've said you're crazy.
Bowman, a Tucson, Arizona native, didn't rise through the stock car ranks with any tout or buzz like his teammates Chase Elliott and William Byron did. He was relatively unknown until he caught the attention of Dale Earnhardt Jr., who put him in several JR Motorsports rides on a part-time basis in 2014 and 2015.
In 2016, he continued to race for JRM in select Xfinity events. Then he was chosen to be one of Earnhardt's substitute drivers in the HMS No. 88 while he recovered from a concussion.
Bowman nearly won at Phoenix that fall. He started from the pole, led 194 laps, but a late restart and run-in with Matt Kenseth relegated him to sixth place.
In 2017, Bowman was primarily a simulator driver for HMS and Team Chevy. He did earn his first Xfinity win with Chip Ganassi Racing that year, though.
Jump to about a month ago. He hadn't yet won a Cup race. Longtime HMS sponsor Nationwide announced that it would leave the team after the season. And he finished second three consecutive times. The seat was getting hotter and hotter, but he kept his cool when NASCAR visited the "Windy City" this weekend.
A late battle and exchange for the lead with Kyle Larson at Chicagoland allowed him to earn that elusive first Cup win.
"I'm just tired of running second," Bowman said. "I didn't want to do that anymore.''
If there was any doubt about his ability before Sunday, it should be 100 percent history now.
"I feel like people question me a lot, and if I deserve to be here or not," he said. "Just based on the fact that I don't have a big resume to fall back on. I've had a lot of great opportunities throughout my career, but when we went stock car racing, those opportunities got pretty slim.
"You know, just getting a Cup win is something that kind of relaxes me in the sense that I feel like I can finally say I deserve to be here. But there were definitely some times I was very worried about it. It made going to the racetrack not a lot of fun. But glad we're having a lot of fun now."
Xfinity: Custer wins fourth race of 2019. He needs 2020 Cup ride
Last year, the Cup Series had the "Big Three" of Kyle Busch, Martin Truex Jr., and Kevin Harvick.
This year, the Xfinity Series has developed a "Big Three" of its own with a trio of drivers who are all ready for a full-time Cup ride.
One of them is Cole Custer, who won his fourth race of the season at Chicago and tied fellow "Big Three" member Christopher Bell for the most victories of 2019. Tyler Reddick is the third competitor and has three wins, and the points lead.
Custer held off defending Cup champion Joey Logano for the victory. The Stewart-Haas Racing driver needs to be in a Cup car in 2020. Keeping him in Xfinity for a fourth year would be a waste of time.
But if SHR wants him in one of its Cup rides next year, someone will have to get the boot. Otherwise, Custer would have to make an unlikely departure from the organization. Harvick and Aric Almirola are safe for 2020. However, Clint Bowyer and Daniel Suarez are not signed on for next year, yet.
Suarez expects to be retained. He has more personal sponsorship than Bowyer, and he's probably being held on a looser leash given his lesser experience in Cup.
Bowyer must be growing frustrated and worrisome. He has eight top-10s in 17 races and is yet to win. The one thing that is his saving grace right now is that none of the other SHR drivers have seen victory this year either. But among the SHR quartet, Bowyer is last in the standings and right on the playoff bubble. He needs to have a good summer or else that No. 14 could be Custer's in seven months.
Truck: Moffitt, the sponsorless wonder, wins again
Brett Moffitt won for the second time with GMS Racing this season at Chicago. He won the Truck Series title last year. And he is third in points right now.
How does he not have a sponsor? It's the very reason he couldn't defend his championship with Hattori Racing.
Driving for GMS is the perfect situation for him. Team owner Maury Gallagher supplies the sponsorship and funding from his airline Allegiant Air. All Moffitt has to do is perform, and he can probably stay in the No. 24 truck as long as he wants.
He brought a plain white truck into victory lane on Friday night. Only in the Truck Series does this happen. We've seen John Hunter Nemechek, and Ross Chastain do it. If a driver is in an underfunded truck, he can make up for it with his talent. That's not possible in Cup or Xfinity.
It just doesn't make sense why he can't find a partnership. He's not the most marketable personality in NASCAR, but who in the Truck Series is? All he can do is win, and maybe companies will realize that he's a great driver to work with.
F1: Another Grand Prix, another controversial finish
Once again, Formula 1 had an exciting race with a vexed conclusion.
Earlier this month, Sebastian Vettel and Ferrari had a win stripped away when race stewards deemed that he blocked Lewis Hamilton in an unsafe manner.
On Sunday at the Red Bull Ring, Ferrari's other driver Charles Leclerc was involved in a disputed finish with Red Bull's Max Verstappen. On Lap 69 of 71, Verstappen dove to the inside of Leclerc to take the lead, but the two drivers made wheel-to-wheel contact, and Leclerc was pushed off-course.
Thankfully, the stewards decided it was a fair move. Had Verstappen had the win taken away, it would've been yet another atrocious example of how F1's race controllers have too much officiating power.
Racing isn't always going to be 100 percent clean. Bumping and rubbing is part of it sometimes, although F1 stewards seem to feel otherwise. It's challenging to maintain consistency in judgment calls in any sport, but it feels like F1 is worse at it than any other racing series lately.
Verstappen's win stands. Had it been overturned, Leclerc would've had the ugliest first win ever, the Orange Army (Verstappen's fan group) would've gone berserk, and F1 would have been put in another unfavorable spotlight. Instead of maintaining order on the track and within the sport overall, stewards seem like they do F1 a disservice with subjective decisions and politicking.
IMSA: Mazda Team Joest finally wins in DPi
Mazda Team Joest finally won an overall event in the IMSA WeatherTech SportsCar Championship this weekend.
The two DPis finished first and second at the six-hour Watkins Glen International race. Jonathan Bomarito, Harry Tincknell, and Olivier Pla stood atop the podium. It's been a long time coming for the Joest team, which formed its DPi program to years ago.
At the Rolex 24 this year, Oliver Jarvis set a new track record for Daytona International Speedway in the No. 77. Their car looked like it'd be the one to beat for IMSA's marquee event, but both entries failed even to finish the race.
They've led laps in every race this year but inexplicably haven't been able to seal the deal. Belle Isle was especially painful for the Mazda group as the No. 55 crashed out after starting third.
"It's been an amazingly long journey," said John Doonan, Mazda Director of Motorsports. "All we wanted to do was to reach the top step for all the Mazda fans, all the Mazda owners, all of our Mazda racers, our dealers, our employees, it was trying to have a Mazda day, and we finally got there. We didn't quit. There was plenty of times where faced insane challenges, so many close calls. We almost thought we had it so many times."
Matthew McMurry, Eric Lux, and Gabriel Aubry won the LMP2 class race for PR1 / Mathiasen Motorsports. Patrick Pilet and Nick Tandy won the GTLM class with Porsche as the manufacturer continues its domination. Mario Farnbacher, Trent Hindman, and Justin Marks won the GTD class for Meyer Shank Racing w/ Curb-Agajanian.
Photo: LAT Images