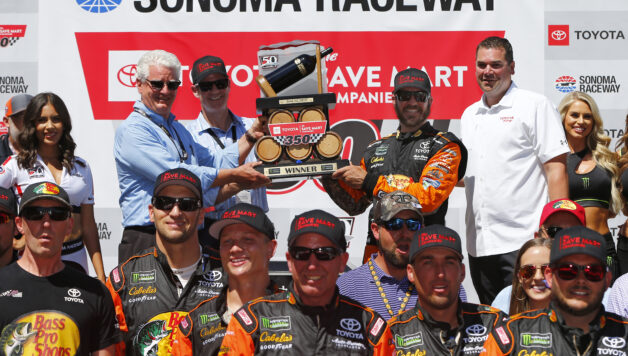 Two of NASCAR's national series competed this weekend along with the IndyCar Series and Formula 1.
Ross Chastain won the Truck Series race at Gateway Saturday night. On Sunday, Lewis Hamilton won the French Grand Prix, Alexander Rossi won the Grand Prix at Road America, and Martin Truex Jr. won the Cup race at Sonoma Raceway.
Third time's the charm
Chastain has visited victory lane three times this year in the Truck Series, but his most recent win at Gateway was the first to aid him in his quest for the championship.
He won at Kansas last month but didn't earn points because he was still declared a competitor for the Xfinity Series title. But two weeks ago, he decided to forfeit his place in the Xfinity standings and chose to earn points as a truck driver.
Entering Iowa Speedway last weekend, he had seven chances to win a race and crack the top-20 in points. It looked like he achieved one of those feats as he won for the second time — or at least he did for about an hour until NASCAR deemed his truck illegal after post-race inspection.
One week later, Chastain had another chance to win and gain ground in the standings. This time, he won without any drama at Gateway and moved up to 26th in the standings. He's only 38 points behind Josh Reaume, who is 20th. Mathematically, he could move past him in the series' next event at Chicagoland. He would then be playoff eligible.
Hamilton extends championship lead in France
Here's a scary thought: Hamilton must have a dreadful summer stretch to make a compelling battle for the world championship.
That's about as likely as you winning the Powerball.
The five-time champion has a 36-point lead over Mercedes teammate Valtteri Bottas. The next closest driver is Sebastian Vettel, and he's 40 behind the Finn.
F1 just passed the one-third mark of the season, but it already looks like the title is Mercedes' and Hamilton's for the taking.
The French Grand Prix was uneventful, but Hamilton insists races like this are just as difficult to win as any other event.
"I still got to deliver," he said. "I still have to deliver in that Q3 lap, I have to make sure I do the start right, which could easily go wrong. I still do the same preparations every single weekend and always trying to be really particular."
Now 34 years old, the Briton is in the prime of his career. He's driving better than ever, and the mere thought of Bottas or Vettel catching him in the standings is simply wishful thinking.
Unless Hamilton is involved in a crash or two or suffers an engine failure, it's hard to see how anyone could outrace him in the final 13 Grands Prix. Mercedes has been too strong this year. Hamilton and the team rarely make mistakes, and it doesn't look like they're showing any signs of weakness.
Rossi dominates Road America
After Colton Herta won the pole for the Grand Prix in Elkhart Lake, Wisconsin, everyone's first thought was, "Can the rookie win for a second time this year?"
Herta never even got to lead a lap on Sunday as Alexander Rossi started on the outside front row and overtook the Harding Steinbrenner Racing driver in the first turn. He went on to lead all but one lap.
Team Penske rounded out the podium as Will Power and Josef Newgarden finished second and third, respectively. Rossi dug into Newgarden's championship lead and is now only seven points behind the 2017 title winner.
"That's probably the best race car I've ever driven," Rossi said post-race. "It was just a win that we needed to do. We've been there and thereabouts, but the Penske cars were getting the upper hand on us. To be able to go out and win a race the way we did and state our intentions, we'll regroup the next couple of weeks and come hard again in Toronto."
The title hunt looks like it's boiling down to Newgarden for Penske and Rossi for Andretti Autosport. After sweeping the month of May, Simon Pagenaud has fallen 54 points behind Rossi.
With a double-points finale at Laguna Seca, no one in the top-five can rightfully be counted out yet, but to remain in contention, drivers like Pagenaud, Scott Dixon and Will Power have to score some podiums and a few more wins.
"The two guys we needed to have a bad day were Alex and Josef, and they keep having good days, so certainly makes it tough to catch up in the championship," Power said. "We'll just keep chipping away with the Verizon Chevy to see what we can do."
New shape, same result for Truex 
Martin Truex Jr. entered Sunday's race as the only active multi-time winner at Sonoma, but he and the other 37 drivers in the field were presented with a "new" challenge.
I say "new," with the quotation marks because it isn't actually new, it's the return of something that NASCAR used two decades ago.
NASCAR raced on the longer configuration of Sonoma Raceway, and that meant the utilization of the "Carousel" and drag strip, which were last used for stock cars in the late 1990s. No one in the field had ever raced on that part of the circuit in a Cup car, so it was hard to predict who'd have an advantage.
As it turns out, Truex had the advantage. He held off Joe Gibbs Racing teammate Kyle Busch for the final 20 or so laps in what looked like a NASCAR-turned-F1 race.
The two JGR Toyotas pulled away from the rest of the field, and no one else stood a chance unless a caution were to come out. It was quite similar to how Mercedes leaves everyone in the dust in a Grand Prix.
Busch and Truex are atop the playoff standings with four wins apiece, but unlike IndyCar or F1, you can't choose a favorite for the title until the last lap at Homestead-Miami Speedway in November. But JGR is clearly the dominant team as it has won 10 of the 16 races this season.
Also of note, Matt DiBenedetto finished fourth with Leavine Family Racing. It was his first career top-five and felt his result was a statement that he belongs in the No. 95 car.
With Christopher Bell poised to move up to the Cup Series next year, and JGR's driver roster full, there have been rumors that he could be headed to LFR in 2020. DiBenedetto hears those rumors but isn't letting affect his mindset.
"I've always had to perform, every single race and year," he said. "I don't let it get to me. … if I go out there and I perform, the rest will take care of itself."
Photo: Jonathan Ferrey / Getty Images