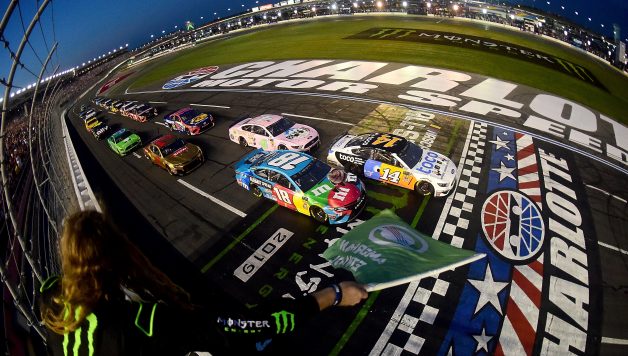 NASCAR's All-Star aero package provides encouraging signs for potential Gen 7 car
The rules package that NASCAR designed for Saturday night's All-Star Race served two purposes: make the racing uniquely entertaining, and provide a glimpse of what could be seen on the Generation 7 vehicles in 2021.
The cars featured a single-piece carbon fiber splitter and two radiator ducts on the hood. The sanctioning body said these technical components could be used for Cup cars after the Gen 6 era if they were a success for the all-star event.
The racing at Charlotte Motor Speedway was as fun as ever to watch. Throughout the night, cars were able to run side-by-side for an entire lap. At times, drivers went four-wide while running at full speed, which is unheard of at tracks other than Talladega Superspeedway.
However, it's worth noting this is an exhibition race we're discussing here. No championship points were on the line, and the winner got $1 million. There was absolutely no reason to run conservatively.
But with that aside, the cars still maintained speed even with a little bit of damage. A majority of the vehicles either scraped the wall or another car but were still able to race competitively for the most part. And when Ryan Newman spun through the front stretch grass, his front bumper wasn't destroyed.
There were two reasons for that: Charlotte has a fake turf which is extremely thin. Splitters wouldn't dig into like it would at a track with a traditional grass field between the racing surface and pit lane. The splitters were also cheaper and less aero dependent than what is used in a typical race.
"Nowadays we have a flat splitter that has the teams chasing control of their ride heights a lot, which gets pretty expensive. It also makes the sweet spot, if you will, for the setup narrow," Senior Vice President of Racing Innovation John Probst told NASCAR.com in March.
Cars weren't getting destroyed as they spun through the turf. That should be an eye-opening moment for NASCAR and all the tracks that have grass adjacent to the front stretch.
NASCAR still has more than a year and a half before it plans to let the Generation 7 car hit the track, but Saturday's event should help clear up what steps it needs to take in the development process. NASCAR definitely had engineers studying the race to see how the cars reacted with the new technical components, and they must be pleased with what they saw.
This isn't the first time NASCAR has experimented with a new rules package at the All-Star Race. It did so last year with the use of six-inch spoilers, 12-inch wide spoiler ears, aero ducts, and restrictor plates.
Although that package isn't identical to the 2019 kit, it's pretty similar. NASCAR is using a reduced horsepower engine with aero ducts fitted on the body in front of the two front wheel wells for more than half of the races this season.
Over the last decade, the use of splitters has been mostly loathed by the fans. The cars gained too much downforce, passing became more challenging, and as Kyle Busch would say, "the cars became too easy to drive."
The Gen 7 cars will likely have a stronger resemblance to their street-legal counterparts. So tell me, how many streetcars do you see with splitters?
While it was an exciting night for race winner Kyle Larson and even All-Star Open stage winner Bubba Wallace, who's desperately needed some positivity in his life, it was also an educational one for NASCAR. This exact package won't be used again, but it's provided the sanctioning body with a direction of how the next type of cars should be made.
NASCAR, if you decide to keep splitters beyond 2020, don't make them overly aero dependent. And if the reduced horsepower in the engines is going to stay, make sure the racing stays as close as it was Saturday and at Kansas last week.
There were many skeptics about the aero package before the season started, but NASCAR might be onto something great here. Some of the best races on intermediate tracks in recent memory have occurred this season. Keep the fans entertained, NASCAR, because that's all you'll ever need.
Photo: Jared C. Tilton / Getty Images