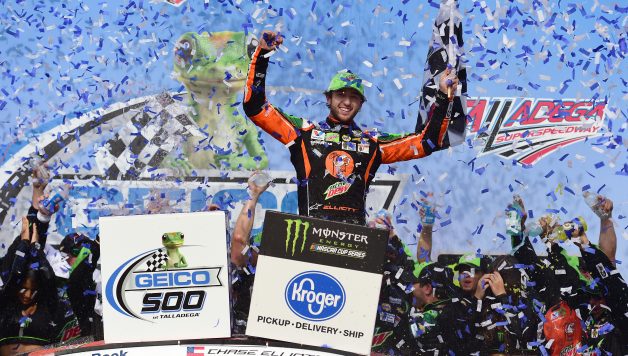 Chase Elliott earns popular win in captivating Talladega race
There weren't any restrictor plates built inside the cars at Talladega Superspeedway this weekend, but that had no ill effect on the entertainment value of the NASCAR Cup race on Sunday.
Instead, NASCAR used a tapered spacer and the new high drag package at the 2.66-mile track. It didn't look all that different from the racing that fans are accustomed to seeing at the Alabama venue, though.
There were still packs of 20 or 30 cars, and clean air was king for the car leading the way. If anything, building enough moment to pass the vehicle in front was a little easier because the tapered spacer allowed a bit more throttle response than restrictor plates and the engines had about 100 more horsepower.
The racing was great. But Chase Elliott's win made the Geico 500 an instant classic.
Elliott won his first race of the year and fourth of his career. Based on the grandstand spectators' reactions, Elliott, a Georgia native, considers Talladega a home track. It's a place where his father Bill has a famed history. He won twice and holds the fastest qualifying lap in the history of NASCAR.
Talladega is known as "Earnhardt Country" because of the success Dale Sr. and Dale Jr. enjoyed over the last few decades. Whenever an Earnhart took the lead there, the fans stood on their feet and cheered.
Although Jeffrey Earnhardt, driving the No. 81 Toyota, never took the lead, he had flashes of speed in the final stage. In an ideal world, he would've pulled off the upset and won his first career Cup race. But if there's another surname in the field with as much history and popularity in NASCAR as Earnhardt, it's Elliott.
"Dad's history is obviously very cool. To me, the biggest piece is how much of a home race it felt like after the race," the 23-year-old Elliott said. "I was blown away by the people and how fired up everyone was. That was an unbelievable experience. We are close to home, so that's cool, and they made me feel that way."
NASCAR is in dire need of a new household name. With the retirement of stars like Dale Earnhardt Jr. Jeff Gordon, and Tony Stewart, the sport has been missing that identifiable driver that even non-racing fans could recognize the last few years.
Elliott looks destined to be that guy. He won the Most Popular Driver award last year, and if Talladega's fan reaction was any indication of how the voting will go this year, he'll win it again by a landslide.
"The post-race was unbelievable. I've never had a crowd just felt like it was in the palm of your hands," he said. You get excited, they get excited. … That's just something that I've never really experienced.
"That's one of the coolest moments I feel like of my racing career, and you don't know if it will always be that way."
It probably will always be that way, though. As long as Elliott is driving, he'll have the support of countless fans. His personality, his name, and most importantly, his talent can make him that next Tiger Woods or Derek Jeter of stock car racing.
Photo: Jared C. Tilton / Getty Images