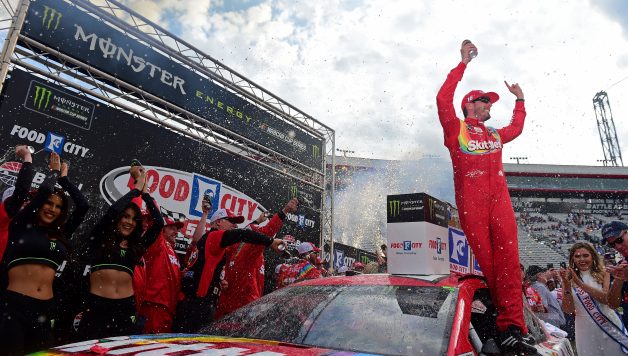 Even without dominant car, Kyle Busch finds way to win eighth Bristol race
Even when Kyle Busch doesn't have the fastest car on race day, he still finds a way to win.
Busch spun on the first lap of the NASCAR Cup race at Bristol Motor Speedway on Sunday after Ricky Stenhouse Jr. bumped the rear of his car exiting Turn 2. Then Ryan Preece sideswiped Busch's rear again on the backstretch and immediately, the No. 18 Joe Gibbs Racing team was in a hole.
The No. 18 crew made repairs under caution, and Busch's race continued, but he certainly didn't have a car capable of winning the race anymore, right? The back bumper had plenty of damage, and it looked like Busch could probably salvage the day with a top-10.
But instead, Busch held off brother Kurt on the final restart and won his third race of the year.
Team Penske cars led 344 of 500 laps at the half-mile oval, but they all chose to pit during the final caution. Busch stayed out while Joey Logano, the Penske driver who led before the final caution, finished third.
Ryan Blaney led the most laps and finished fourth. Denny Hamlin, who was penalized for speeding on pit road with less than 100 laps remaining, rounded out the top-five.
Busch's win was the 54th of his Cup career, tying him for 10th all-time with NASCAR great Lee Petty. The only active driver he trails is seven-time Cup champion Jimmie Johnson, who has 83 wins.
Busch is in the prime of his career. When he won his 200th national level race last month at Auto Club Speedway, there was plenty of debate about where ranks among NASCAR's all-time greatest drivers list.
His average finish this season is 3.4 and is yet to end a race outside the top-10. Sunday's victory might be his most impressive of 2019, though, as he was dealt a wounded racecar early in the day. But he made the most of it, and once again proved that he's an elite talent.
He'll turn 34 next month, so he likely has at least a half dozen more years to rack up the wins, if not more. Amazingly, he only has one Cup title at this point in his career, but it looks like he is going to be a favorite for many years to come. Busch leads the standings by 27 points over Hamlin.
Also of note: 
It took Kevin Harvick's car four times to get through pre-race inspection. He was forced to start from the rear and serve a pass-through penalty. Luckily for him, the caution flag flew as he was driving through pit road and it kept him from going more than one lap down. He was a nonfactor throughout the race and finished on the lead lap in 13th.
Ty Dillon won his first career stage. When the leaders pitted under caution a few laps before the end of Stage 1, he and Clint Bowyer stayed out and led the field for the final few circuits. Bowyer restarted on the bottom lane, and Dillon used to the top groove to remain side-by-side with the Stewart-Haas Racing driver. He edged him by a couple of inches at the line to earn his first playoff point.
Brad Keselowski was black flagged for not following NASCAR's directions on the final restart. He and Logano tried to line up on the outside row, but the race control deemed that Keselowski was not in the proper place. He finished one lap down in 18th.
Keselowski was critical of NASCAR for not clearly directing him where to go. He spoke to Fox Sports about the issue, saying that there are "too many rules" in the sport.
"I think they should take the rule book and tear half the pages out and go race. We have too many rules, too many lucky dogs and too many waive-arounds," he said. "There is so much going on that drivers don't know what's going on and NASCAR doesn't know either."
Photo: Jared C. Tilton / Getty Images