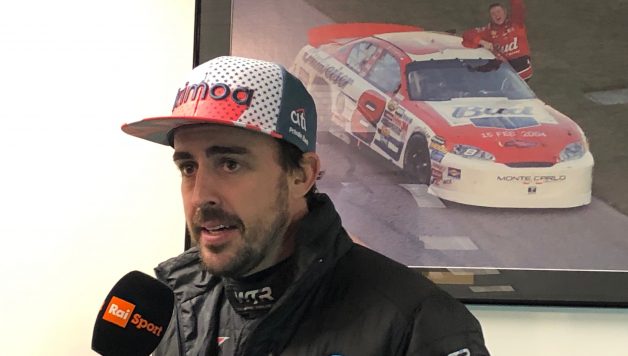 Triple Crown hunter Fernando Alonso, Wayne Taylor Racing win rain-soaked Rolex 24
DAYTONA BEACH, Fla. — For the second time in three years, Wayne Taylor Racing won the Rolex 24 At Daytona. The defending 24 Hours of Le Mans winner and two-time Formula 1 champion Fernando Alonso also checked another box off his auto racing bucket list.
The first two-thirds of the endurance event at Daytona International Speedway were dry and fairly clean. WTR's Cadillac, the two Acura Team Penske DPis and the No. 31 Action Express Racing DPi were the class of the field throughout Saturday and early Sunday morning.
But then the rain came around 5 a.m. and the dry racing surface turned into an asphalt Slip and Slide for the final few hours.
Two red flags and hours worth of caution laps made Sunday a bore. Standing water on the track was too dangerous to permit racing but the rain wouldn't ease, leaving IMSA with a difficult decision to make.
Should they race or should they wait for the rain to hopefully stop?
In the final three hours, the choice became harder and harder as the rain let up at times but nonetheless continued. The sanctioning body said it would determine if the paused race would resume at 2 p.m., but it didn't announce anything until 2:25 p.m. when there were 10 minutes left on the clock.
At that point, it was too late to attempt a finish. Ten minutes wouldn't be enough to get drivers to the cars, run a few pace laps, and have a green flag finish. The official time of the event was 21 hours and 59 minutes.
Alonso won Le Mans seven months ago. Two months ago, he retired from F1. On Sunday, he won the greatest endurance race in North America. Oh, and he's returning to the Indianapolis 500 with McLaren in four months.
Undoubtedly, he deserves to be in the Driver of the Year discussion.
Or perhaps driver of this generation.
"The aim is to do something unprecedented in motorsport," Alonso said. "If I win Indianapolis, it would be the quadruple crown."
He isn't sure what else he wants to do in his racing career. Aside from Indy and the FIA World Endurance Championship race at Sebring International Raceway in March, he's leaving all possibilities open.
"I'll need to think, I need to plan, I need to make sure I'm competitive," he added. "Hopefully, soon I can tell you the plans."
Could it be something NASCAR-related, or an IndyCar season, or something else? He wouldn't disclose anything in particular.
"I have ideas," he said.
Also of note:
Zanardi leaves Daytona feeling "more sweet than bitter"
Alex Zanardi has become an inspirational figure since losing both his legs in an Indy car crash in 2001. He's continued life as a successful hand cyclist and Paralympic Games medalist who maintains a passion for racing.
He ran the Rolex 24 for BMW Motorsports with a customized steering wheel that allowed him to use the throttle and brakes with his hands.
But when he climbed into the car for his first stint, the steering wheel malfunctioned and it delayed the No. 24 GTLM machine on pit road. Several other incidents including the car running off-track and making contact with others led to a ninth-place finish in the GTLM class.
"Bittersweet" is the word Zanardi used to describe his weekend.
"But in reality, it's more sweet than bitter."
The Italian driver spoke to reporters after the race where he discussed how thankful and appreciative he is of his life and the opportunities he's had even as an amputee. When he finished talking, almost everyone in the entire press room gave him a standing ovation.
Class winners:
DPi: No. 10 Konica Minolta Cadillac DPi-V.R.
Alonso, Jordan Taylor, Renger van der Zande, and Kamui Kobayashi win the overall race.
LMP2: No. 18 DragonSpeed Oreca
DragonSpeed, which owned two of the class' fourth entrants, finished first and second. Pastor Maldonado, Roberto Gonzalez, Sebastian Saavedra, and Ryan Cullen were the drivers of the winning car.
GTLM: No. 25 BMW Team RLL M8 GTE
Connor De Phillippi, Colton Herta, Philipp Eng, and Augusto Farfus were the drivers of the winning GTLM entry.
GTD: No. 11 GRT Grasser Racing Team Lamborghini Huracon GT3 
This team goes back-to-back in class wins at the Rolex 24. Mirko Bortolotti, Rolf Ineichen, and Rick Breukers repeat as winners, and Christian Engelhart earns his first Daytona victory with the team.