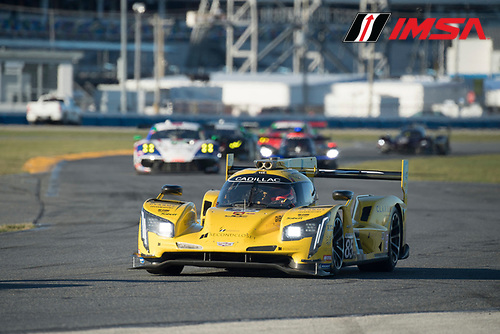 On Wednesday, IMSA announced that 47 cars will race in the 24-hour race at Daytona International Speedway on Jan. 26-27.
Eleven Daytona Prototype international (DPi) cars, four Le Mans Prototype 2 (LMP2) cars, nine GT Le Mans (GTLM) cars, and 23 GT Daytona (GTD) cars make up the grid for the 57th running of the event. It will mark the first IMSA WeatherTech Championship event in which the entire field will use Michelin tires.
DPi entries:
Six Cadillacs are entered (two Action Express Racing cars, one Wayne Taylor Racing car, one Juncos Racing car, and two JDC-Miller Motorsports cars).
Acura will feature two DPis for Team Penske. Mazda will enter two DPis with Joest Racing, and Nissan will enter one DPi with CORE Autosport.
LMP2 entries:
DragonSpeed will enter two Oreca 07 cars. Performance Tech Motorsports and PR1/Mathiasen Motorsports will each enter one Oreca 07.
GTLM entries:
CORE Autosport will enter two Porsches, Risi Competizione will enter one Ferrari, Rahal will enter two BMWs, Chip Ganassi Racing will enter two Ford GTs, and Corvette Racing will enter two of its cars.
GTD entries:
Four Porsches are entered (one each by Pfaff Motorsports, Park Place Motorsports, NGT Motorsport, and Black Swan Racing).
Five Lamborghinis are entered (one each by GRT Grasser Racing Team, Magnus Racing, Ebimotors, Precision Performance Motorsports, and Paul Miller Racing).
Two Acuras are entered by Heinricher Racing with Michael Shank Racing and Curb-Agajanian
Three Ferraris are entered (one each by Via Italia Racing, AF Corse, and Scuderia Corsa).
Four Audis are entered (one each by Starworks Motorsport, Moorespeed, Montaplast by Land-Motorsport, and WRT Speedstar Audi Sport
One BMW is entered by Turner Motorsport
Two Lexus are entered by AIM Vasser Sullivan
Two Mercedes-AMG GT3s are entered (one each by P1 Motorsports and Team Riley Motorsports).
Photo: LAT Images