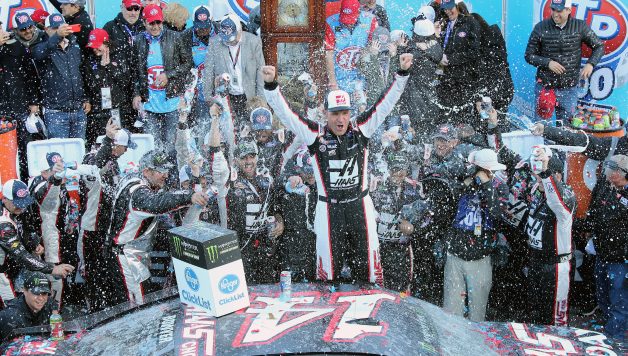 Aragon: Victory Lane should be a celebration for all
Martinsville does it, Bristol does it, Atlanta does it, and it's time for all tracks to do it.
Victory Lane celebrations after a NASCAR race should be moved to the frontstretch, where the fans can see the celebration closer and have more access to our sport.
After a driver climbs from their car in Victory Lane, what is the first thing they do?
They either usually turn to their team or the fans in the grandstands and put their arms up with a smile on their face as they are showered with champagne and confetti.
Personal experience
When I attended races as a kid at Phoenix Raceway, now ISM Raceway, I remember wondering where Victory Lane was.
It could not be seen by the naked eye from some parts of the track, so we had to rely on the large monitors to watch it.
The inner race fan in me was bummed by that experience attending a NASCAR race for the first time.
Solution
If this were to work, there must be some order to it.
It can't be a free-for-all. There should still be some security and organization.
A lot of photographers have reserved areas in Victory Lane, some are with the local papers, and some are a part of the national media. They should still be guaranteed their areas for photo opportunities, but a compromise could be met where the fans are closer to the celebration.
Geoff Bodine touched on this last year, and I agree that fans would enjoy this if this policy were implemented.
From the profit side, the tracks could take the idea a step further and make a little bit of money if they wanted to. They could sell a Victory Lane package to fans who would get to be on track with the team during the celebration.
The winning car should be sectioned off when the fans enter the area that way nothing can be tampered with. But it must be remembered that fans are the reason there is a sport in the first place.
Each track is different, but along the frontstretch of most of the tracks, there are openings that allow fans to cross between the grandstands and the racing surface, and those areas are usually opened up before the start of a race.
While "X" amount of fans are in Victory Lane itself, some would be able to walk up to the sectioned off part (if there is enough room like at Sonoma Raceway or Watkins Glen International.
Time to open those floodgates to the fans post-race and let their race weekend come full circle.
After all, they're the reason drivers, team owners, and track promoters have a paycheck, so giving back and making them feel a part of the action more so will only do good.
DISCLAIMER: Thoughts and opinions reflected are only those of the writer. Follow him on Twitter @DominicAragon
Photo: Jerry Markland/Getty Images