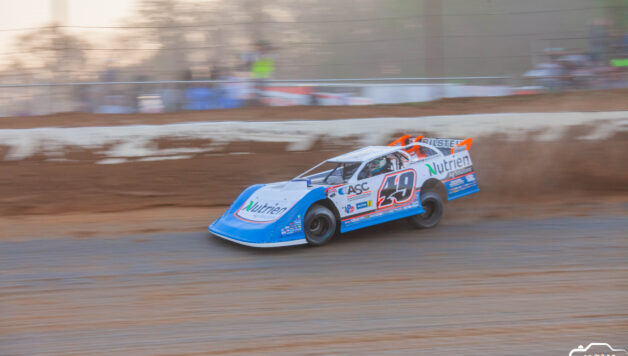 BY SYDNEE HAMBLIN
Born in Blairsville, Georgia on October 31st, 1983; Jonathan Davenport has grown to become a dominant name in late model racing.  He was introduced to racing by his father, where he would ride in the car during wheel packing. While his career is full of championships and crown jewel wins, it hasn't been without the highs and lows many drivers face in their careers. 
Davenport  began his racing career in go-karts at the age of 7, where he won his first ever race. Over the next few years he collected 4 track championships before moving up to the "stock light" go-kart division. At 10 years old he started racing Mini-stocks where he claimed over 30 wins and one track championship in the division. In 1996, Jonathan began racing asphalt legends and started to branch out in the Southeast region to race more. By 2001, he had collected over 100 total legends wins, 2 regional championships, and 1 state championship in Georgia. 
After the 2001 season, Davenport scaled back his schedule and returned home to race a super late model. He continued to race locally in Northern Georgia, and the Carolinas until 2009 when he teamed up with the Rumley Racing #6. During the 2009 season, Jonathan competed in his first ''Dream 100'' at Eldora speedway where he finished 17th. The following season, he captured wins with the World of Outlaws late models, Lucas Oil late models, Southern Allstars, Southern Allstars East, Southern Nationals, NLMS, & FASTRAK series. Of his 24 total wins in the 2010 season, more than 10 of them paid $10,000 or more to win. The momentum of this season carried through the next seasons, in 2012 he took on his first full season with the Lucas Oil late model series where he won rookie of the year honors. His successes continued to grow until the 2015 season. In 2015, he entered 60 races, and had 23 wins, 37 top 5s, and 42 top 10s. Originally the 2015 season was supposed to be another scaled back season, but after having early successes that left him sitting high in the points standings early in the season, Davenport and Rumely Racing decided to keep going for as long as they were winning. They ended the season with over $700,000 in winnings and the Lucas Oil late model championship. 
Since 2015, he has collected two additional Lucas Oil championships, and a total of 5 "World 100" titles at Eldora speedway. Despite his overwhelming success in late models, all of his previous seasons cannot add up to Davenport's 2022 season. What had started out as a chase of large paydays, the focus was always set on the Eldora Million in June 2022. Every race was a learning experience leading up to the largest payday in Late Model history. Davenport was victorious not only in the Eldora Million, but in 23 other races raking in a total of over $2 million dollars in earnings. 
2023 has also seen a series of successes, including a NASCAR Craftsman Truck Series start, a NASCAR Cup Series start. Davenport finished 14th and 36th in his NASCAR starts respectively. Most recently Davenport was invited to race with Tony Stewart's Superstar Racing Experience race at Lucas Oil Speedway in Missouri, where he won the race in just his first time in the car. You can catch Jonathan Davenport racing late models around the country throughout the remainder of the 2023 season.