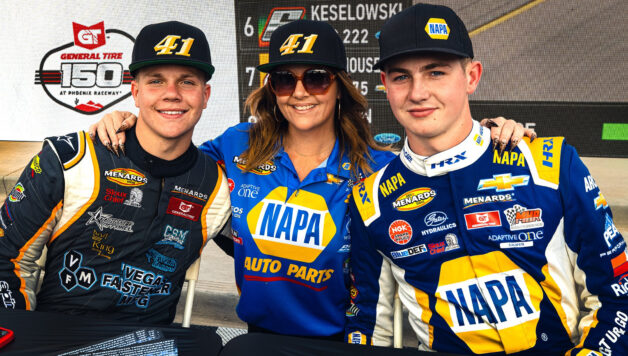 Photos Courtesy of Vegas Fast Media (@vegasfastmedia)
The success of brothers in NASCAR is a subject that has been documented for quite some time. From empires like Wood Brothers Racing to some of the winningest names in the sport such as Labonte, Waltrip, Allison and Busch, there always seems to be an upcoming duo to keep an eye on. 
Undoubtedly, Kurt and Kyle Busch have found the most success with a combined 96 wins in the NASCAR Cup Series alone. Hailing from Las Vegas, Nevada, the Busch brothers got their start at The Bullring at Las Vegas Motor Speedway racing Legend Cars around the 3/8ths mile oval just west of the big track. After finding success on a local and regional level, Kurt led the way into the ranks of NASCAR's top three national series with Kyle following suit closely, winning nearly everything along the way.
The Busch brothers have found tremendous success in NASCAR, but now with Kurt in retirement and Kyle's years likely beginning to dwindle into the single digits, many have posed the question; who's next?
Perhaps the perfect pair of brothers to keep your eyes on are the newest generation of racers that have been raising eyebrows in the NASCAR-owned ARCA Menards Series. Coincidence or not, Tanner and Tyler Reif also just so happen to be born and raised in Las Vegas, NV and have been cutting their teeth the last few years dominating the legend car and late model scene at The Bullring at LVMS. 
Tanner is the older of the two, currently 17 years old. Tyler is the youngest brother, at 15 years old. While they both share the burning desire to win in every car they climb in to, their personalities shine bright in their own ways on and off the racetrack. Tanner is the quieter brother, less likely to ruffle feathers on the track but always critical in his thinking and understanding of what is going on with the car and during the race. Tyler is more of what many would consider a "wild child." Although he might be a little more animated than Tanner, he is always focused on one thing when he puts a helmet on… winning… and he will do whatever it takes to do so, even if that means not making many friends on the track. Don't discount either for their knowledge, however. Both Tanner and Tyler have a great understanding of the ins and outs of what makes their cars fast and have worked many hours in the shop on their own cars while climbing the regional ranks. 
"Sharing the track with my brother can definitely make racing at the track different," explains Tanner. "I believe he is much more aggressive and harder on the car, whereas I think I can preserve the car and tires better through a longer run. At the end of the day, I race him like I would anyone else."
"It's a huge positive and a huge negative," as Tyler describes. "Obviously we are both super competitive. On top of that we are brothers, but he pushes me, and I push him, which pushes both of us to be better… but it can definitely be frustrating on the way home sometimes."
Now if you think it's bad enough having to battle your brother for the win, can you imagine what it is like having your only two children in the same race every weekend? Finding the balance on how to cheer for her two boys equally and support them through their highs and lows is a job that Tori Reif, Tanner and Tyler's mother, gets to juggle on a regular basis. 
"I thought being a mom to two teenage boys was hard enough," says Tori. "Adding on that they are competitors is a huge challenge. It's very rare that both boys come off the track happy so finding that balance has never been easy and I'm not sure I have it figured out yet. I just make sure that they know I support them no matter what. I enjoy every aspect of watching them accomplish their goals on track. To say watching them win is easy, and of course that makes everyone happy, but watching them struggle, learn, adapt and applying that ability to their racing is so rad."