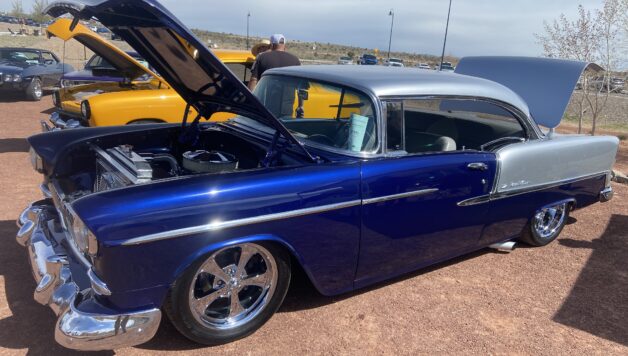 By David Swope
Rudy Gallegos Jr. has been showing his latest reiteration of his classic 1955 Chevrolet Sport Deluxe Bel Air since August 2022. Walking away with the "Best of Show" at the Cocina Azul Fiesta Car Show in its first showing, the '55 Reloaded has been turning heads!
"The car has basically been in the family for about 56 years," said Rudy standing next to his creation at the Park in the Park Car Show on April 22. "My dad had it before me. He had it running up until 1973 and then he gave it to me. When I was in high school, we built it up and painted it, put in a 327 with a 4-Speed Muncie and I ran it until about 1990. I tore it down and then family started. I didn't touch the car for 30 years." 
"What you see right now is the efforts of friends and family for two years," explains Rudy. "It's got a 350 with a turbo 350 tranny." Extras include disk brakes up front, Dakota digital gauges and custom stereo. "Rohan's Upholstery & Custom out of Gallup did the interior. I had the full bench with another upholstery person working on it and that fell apart. So, we went with the buckets after that." 
"Mike Tafoya helped me with the suspension. We went with the 4-link in the back and, of course, bags front and back," said Rudy with a smile.  "I had to add by some Chrome because it was either pitted really bad or it was bent. I had to replace the driver's door panel and then the hood, but the body work was done by Johnny Valdez out of Grants. He also painted the car. I painted all the jams and underneath the engine compartment and he did the rest."
The '55 Reloaded will be at the Neighborhood Block Party at DreamStyle Remodeling at 1460 N Renaissance Blvd. NE on Saturday May 20, 2023. Come and check it out for yourself!