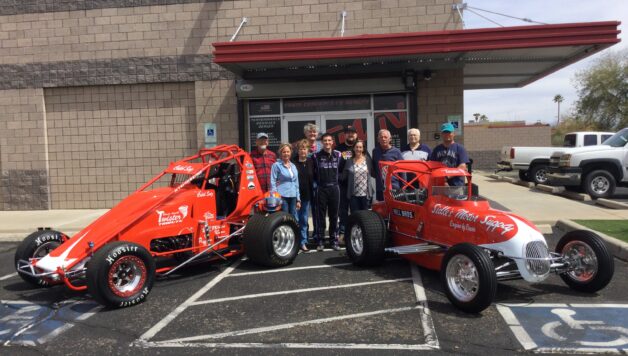 The Twister: A Hank Arnold Tribute by Hal Burns Racing
Hank Arnold was a true American hero in every sense of the word. Whether it was his time as a Marine, his love for his family, or helping another racer at the track, one thing was consistent; everyone looked up to Arizona's most popular driver.
Arnold's story began on a farm in the small town of Sharon, Wisconsin on March 28, 1931.  He didn't stay there long, however, as the family made the move west to Tucson, Arizona just one year later. Arnold's sister, Dorothy, remembered his passion for racecars from as early as the age of three, going as far as building cars out of wooden boxes with nails and spools acting as toggle switches and dash components. It was just the beginning of what would be an impressive career behind the wheel.
After returning home to Tucson from the Marines in 1951, Arnold built his first race car with close friend Roger McCluskey by his side. Although it was a fairly simple jalopy, Arnold took the opportunity to soak up as much knowledge as possible about the mechanics of race cars.
Arnold finally made his first start as a driver at the Tucson Rodeo Grounds' Race Track in 1953. The same race fans that had found appreciation in Arnold's ability to build race cars soon found out that he was quite skilled in the cockpit of them as well. Arnold's second car nicknamed "Party Doll" surfaced in 1956. It was the first tubular super-modified race car in the United States, and was considered to be the first true super-modified to come out of the Southwest. Arnold was understandably proud of his concept. The Party Doll brought even more success to Arnold, and they combined for over 30 feature wins and multiple championships. After Party Doll, Arnold built "Lil Stinker" and "Payola" which each had their own features that assisted Arnold to another slew of victories and awards. Other drivers were often intrigued by Arnold's ability to try combinations with setup that nobody else could make work.
There was always one car of Arnold's that stood above the rest, however. In 1962, Arnold built the car that would undoubtedly define his career as one of Arizona's best. "The Twister" was a true super-modified that was well ahead of its time and set the bar high for fellow car builders nationwide. The 1600-pound car was light weight for those days; featuring state-of-the-art front spindles, wide rear tires, and a 301-cubic-inch Chevrolet power plant with a GMC 4-71 supercharger that sat three inches further back than any other car. Perhaps even more impressive than the mechanics of the car was the body work that dressed The Twister. The bodies lines represented everything that was unique about super-modified racing in the '60s, and helped give Arnold's creation major notoriety. Knowing that others would likely copy the design, Arnold set out for a way to make The Twister his. Arnold's solution was via Charlie Hall who created a vibrant orange paint scheme that was unlike any color ever seen on a race car before.
The Twister had so much power and grip that Arnold's tallest hurdle was finding a way to keep all four tires connected to the ground. Once that balance was found, Arnold was seemingly unbeatable. The only thing that could slow the fearless driver down was his own body. Arnold suffered a broken neck in 1960 and then a broken back in 1963. He continued to race despite the pain he endured because of those injuries.
There was no point in time where Arnold's success made him lose sight of his humble upbringing. Arnold was always approachable and went out of his way to help others any way that he could, whether it was making time for fans or assisting a fellow competitor. Arnold was also very popular outside of Arizona. There were many instances where he would travel to Albuquerque, New Mexico, solely to help boost their program and folks could always count on Arnold to share his racing knowledge anywhere he went. He was a superstar in every way.
Unfortunately, Hank Arnold was fatally injured in June of 1967 at the age of 37 in an accident during a qualifying heat race at the famed Manzanita Speedway, the track where he had seen so much success. In a split second, the life and career of Arizona's most popular driver was over. Arnold was so loved, in fact, that his death resulted in the largest funeral in Tucson history with a procession line spanning over two miles long. The void that was left behind by Arnold is still noticed to this day, and his life is celebrated annually with the Hank Arnold Memorial race every November.
Several years later, The Twister was successfully restored by Navy veteran and friend of Arnold, Don Brown. Brown often recalled the races that he had witnessed at Tucson with Arnold and his beautiful Twister super-modified while overseas. The remembrance of the car's unique sound was a welcome thought in Brown's mind and a natural high that helped him get through the war. The news of Arnold's death shocked Brown but the sailor swore to keep his legacy alive. When Brown returned home, he went searching for the car that he had spent so many sleepless nights thinking about. He would find that car in Albuquerque at Abie Gonzales' used car lot, assured that it was in fair condition. To his surprise, the car looked nothing like its glory days, now adorning a pink and white color scheme and bailing wire holding it together. The asking price was too high for Brown to purchase and restore at the time, and he left back home without the legendary Twister in tow. Brown never gave up on the idea of the Twister's restoration, though, and returned in 1981 to save a critical piece of Arizona racing history. Brown worked hard to find every original piece of the car, including the original motor and blower which had sat untouched in the Collins family barn, the original stainless steel numbers that decorated the upper body, and the DuPont paint numbers still on file from Charlie Hall. At last, after five long years, The Twister was back to its original condition, just as it had appeared on Hot Rod Magazine's cover in 1963. Today, the original Twister resides at Crown Concepts in Tucson, Arizona, and is used to help promote the Hank Arnold Memorial every year and educate interested parties about the history of motorsports in Arizona.
In 2021, exactly 54 years after the loss of the Tucson icon, a new chapter has been added in the legacy of Hank Arnold and his Twister with the help of Hal Burns Racing. The Sprint Car team from Santa Fe, New Mexico is owned by Arnold's nephew, David Burns. Burns was able to pay homage to Arnold this season with a commemorative paint scheme that replicates the famous Twister model from 1962. The driver is multi-time Lucas Oil POWRi New Mexico Motor Racing Association champion, Caleb Saiz, and was graciously renumbered as the No. 1HA for the 2021 racing season.
"I first learned about Hank Arnold when I began racing for David in 2016," explained Saiz. "When I learned that I would be driving a tribute to his famous Twister car this season, it was a very special surprise and I am so thankful for the opportunity."
The Hal Burns Racing team recently took a trip down to Crown Concepts in Tucson to see the original super-modified up close and learn more about its history from Don Brown. Additionally, the team got to visit with some of the closest people to Hank's heart. His wife, Roberta, and daughters Shirley and Laurie were generous enough to spend time with the team and share their favorite stories about the Tucson legend.
"I wanted to see The Twister in person and meet with Don, Roberta, Shirley and Laurie to learn more about Hank and his life," explained Saiz. "It was so nice of the family to come out and share their stories of Hank. When I actually saw the car, I was amazed at how cool it was. Obviously it's an older car, but it was so nicely built. Hank was a great role model and a very likable, people person. He would always go out of his way to help others and was a true idol. I want to be like Hank Arnold."
In storybook fashion, Saiz and Hal Burns Racing were able to capture their third-career Lucas Oil POWRi NMMRA Sprint Car Series championship together this season with a combined 672 points. It was an achievement that will not soon be forgotten by the team and is even sweeter that it came whilst paying tribute to their hero, Hank.
"This championship means a lot," explained Saiz. "The highlight of the season would definitely be winning the Truman West Memorial but to win the championship in the Hank Arnold tribute car was our goal at the beginning of the year and it feels really good that we were able to make that happen. David Burns provides top of the line equipment, Paul Whitehead has been providing us with some awesome motors, and I've got a great group of people behind me that help and support me. That is what makes us competitive each year."
"I can't thank David Burns, Don Brown, and the Arnold family enough for allowing me to run the Hank Arnold tribute car this year. It means so much. I also would like to thank Steve Nix, Clyde Hill, Russ Hein, Randy and Terra Bushee, Madelyn Hatch, James Hatch, and Devon Amos for all their hard work this year. They make my job easy, especially when it's race day. Of course, it wouldn't be possible without all our great partners; Hal Burns Truck & Equipment, J&J Auto Racing, FK Rod Ends, Weise Auto Supply, NAPA Belts & Hoses, SMII, JMS Telephone Company, Robert Jansonn with Bert's Body Works, Hoosier Racing Tire, Simpson Race Products, Schaefer's Oil, CSI Shocks, and Smiley's Racing Products," concluded Saiz
The fact that The Twister has returned to the track this season, over half a century, later speaks volumes as to how much Arnold meant to motorsports in the southwest. It is so fitting that success was able to follow The Twister into 2021 and fans once again were able to watch its tribute car celebrating in victory lane. Perhaps more important, it speaks to the man that Arnold was regardless of whether or not he was behind the wheel. He will always be remembered as a warm, friendly person, full of passion in everything he did. Adults loved him, children adored him, and competitors respected him. Although Hank Arnold is no longer with us, his legend will continue to live on for many years to come.