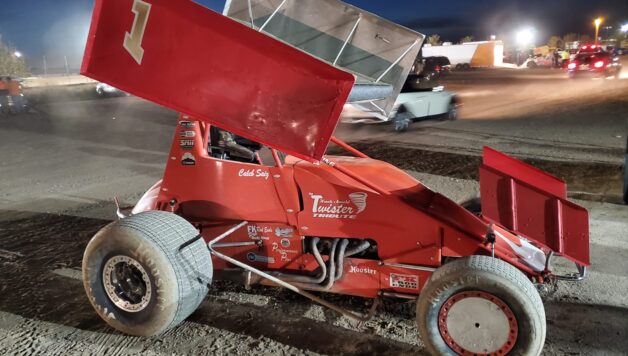 Albuquerque, NM (4/24/21) – For the first time this year, the Winged 360 Sprint Cars were back on track at Sandia Speedway's high-banked 3/8ths clay oval. After an exciting season in 2020, drivers and their teams were eager to battle a strong field of cars for their opportunity to be the first team in victory lane for the year, and take control of the point standings early.
Thirteen cars would check in for the evening and be split between two 8-lap heat races to determine the starting lineup for their feature event. Heat 1 would see a familiar face cross the finish line first as El Paso's Don Grable took the win in his No. 45x entry with Ted Schlote and Charlie Fegan in tow. Caleb Saiz would win heat race number two behind the wheel of his Hank Arnold Twister tribute No. 1HA, besting veteran Jason Tanner and Devon Amos.
Next came 20 fast laps for the A-Main where Jonathan O'brien and Tlaloc Saenz brought the field to the green. Obrien would lead the opening ten laps, until Saiz worked his way around the No. 99 after starting back in the 7th position. Saiz didn't look back either as he would lead the remaining half of the race in route to his first victory of the 2021 season for Hal Burns Racing. Grable would also advance six positions in the feature to come home 2nd, and Farmington, New Mexico's Josh Grady finished 3rd while also picking up the hard charger award, picking up seven positions. Rounding out the top-five was Devon Amos and Jason Tanner.
Saiz also becomes the point's leader after the sweep by five points over Don Grable, Jason Tanner, Devon Amos, and Josh Grady. The always-fast winged division will be back on track at Sandia Speedway on May 8th for 'May Mania' alongside the Dirt Late Models, Street Stocks, X-Mods and Motorcycles.
Results:
#             Name                                    Hometown                                         +/-
1.             1HA      Caleb Saiz                           Albuquerque, NM                           +6
2.            45x        Don Grable                         El Paso, TX                                      +6
3.            12J        Josh Grady                          Farmington, NM                            +7
4.            41          Devon Amos                        Rio Rancho, NM                             -1
5.            14           Jason Tanner                     Los Lunas, NM                                –
6.            99          Jonathon O'Brien             Bosque Farms, NM                         -5
7.            12           Jerry Mosher                     Corrales, NM                                   +6
8.            26          Randy Smith                      Peralta, NM                                     +1
9.           29           Ted Schlote                        Peralta, NM                                     -3
10.         611         Charlie Fegan                    Bosque Farms, NM                         -6
DNS       10           Gary Guinn                        Bosque Farms, NM                         –
DNS       619         Tlaloc Saenz                       Pena Blanca, NM                            –
DNS       27           Mike Hathaway                 Colorado Springs, CO                    –