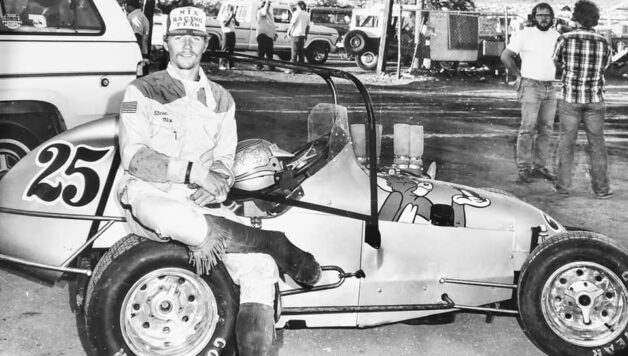 This y
ear marks the POWRi Lucas Oil New Mexico Motor Racing Association's 75th year of racing action in the southwest. One of the few names that has been a part of the excitement from the very beginning is the Nix family, and the latest self-proclaimed 'throttle jockey' to have spent time in the organization is former champion, Steve Nix.
"I was fortunate to be born into racing. My dad, uncle, and the whole family were racing in the early 50's and I was born in 1957. By that time, my dad was already on the racetrack doing his thing. I started when I was six-years-old and progressed through go karts and motorcycles. We would make anything with a motor as fast as we could make it so we could get hurt, that's just what we did," joked Nix.
The start to sprint car racing would come a little late to Nix, however, due to the long-standing rule that you must be at least 18-years-old to race sprint cars prior to the early 2000s.
"I had to wait to race sprint cars until 1975 when I turned 18. Back then, everybody made their own equipment. We built our own cars in the shop. We made our own birdcages, suspension components, and even seats. In fact, I remember sitting on the floor of the shop with a piece of cardboard and a pencil measuring out the dimensions so that we could build my seat," explained Nix.
"Safety is a huge deal today. My first car had a bolt-on roll cage. Nowadays, people look at that and say 'you were crazy'! That's just the way it was. We didn't know any different."
One of the most intriguing pieces of racing in the 70's was the fact that you were truly forced to learn fabrication skills just to keep yourself on track from week to week. Unlike today where nearly everyone is racing with comparable equipment, much of which is bought online or through a catalog, everyone back then was encouraged to think outside of the box to search for speed.
"Stick welding was the way to keep you going. We didn't have tig and mig welders or any of that. Not in our shop anyway. When you broke something, you went out back and cut a piece out of another car and put it back together. I've even lost parts on the racetrack that we had to manufacture in the pits. With belly pans, fortunately sometimes you have a used stop sign to use to put the car back together," said Nix as he let out a laugh.
Now removed from driving sprint cars after a nasty wreck, Nix finds enjoyment by continuing to be a part of the sport by helping other young racers achieve their dreams by working as one of the crew chiefs in Santa Fe at Hal Burns Racing overseeing 2020 champion, Caleb Saiz and 2020 rookie of the year, Devon Amos.
"David Burns has put together a stellar group of people that work really hard to go out and have fun," said Nix. "There's nothing you can do to copy what the feel of racecar is though. I really had the desire to drive longer but my mind can write checks that my body can't cash. In 2014, I won the championship but the last crash I had was just another one of 'those' crashes. The injuries add up over a period of time. Even though you want to continue racing, it actually started hurting me to get in the car and drive. That takes some of the fun away from it when you have that situation going on."
Although his driving days are now behind him, Steve Nix's legendary career will not go unnoticed. The throttle jockey just celebrated a birthday on February 18th and plans to attend as many races as possible this season. It is veterans of the sport like Nix that keep us grounded and able to appreciate just how far sprint car racing has come.