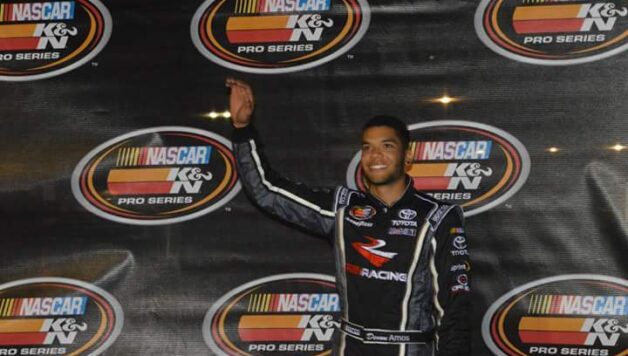 2020 NMMRA Rookie of the Year: Devon Amos
Published On December 2, 2020 |
Top Posts
It was a short but sweet year for Rio Rancho, New Mexico's Devon Amos. With the COVID-19 virus striking the nation, it left the New Mexico Motor Racing Association rookie with only a handful of races to attack the learning curve that a rookie season in any sport brings. Luckily, Amos and his Hal Burns Racing team was up for the challenge and turned many heads while earning the 2020 Rookie of the Year award coupled with an impressive 2nd place finish to end their season at the Sprint Car Stampede in October.
"It was a really fun season," said Amos. "There were definitely some growing pains through the beginning of the year though. Dave Burns has put together a great team and it was a lot easier with the help of Steve (Nix), Clyde (Hill) and Caleb (Saiz). It was pretty easy to mold into their operation."
The former ARCA Menards East Series driver was able to get a few pointers throughout the season from fellow competitors including his teammate, Caleb Saiz, who captured the championship with NMMRA for 2020.
"The racing community as a whole is pretty supportive. I was able to ask as many questions as I wanted with most people. I spoke with Spencer quite a bit since we have a similar chassis, but really everyone was helpful. Hopefully we will be in good shape for next year."
Fans of Amos should be very excited for the 2021 season as he just announced his return behind the wheel of the Burns No. 41 Sprint Car on the New Mexico Motorsports Report show last weekend.
"I'm excited for next year and hopefully we will be able to contend for some wins. We finished the season pretty strong with solid results that I hope will carry into next season. I wish we could get going already."
Particularly in sprint car racing, the support behind the scenes truly cannot get enough recognition as it is very difficult to keep cars on track for the grueling seasons.
"As you know, racing is not cheap. We couldn't do it without a bunch of great partners like NAPA Belts and Hoses, Hal Burns Truck & Equipment, JMS Phone Technologies, Performance Plus Engines, Scoggin Mechanical Industries, Schaeffer's Racing Oil, Hoosier Racing Tire Midwest, Weise Auto Supply, and many other great sponsors. We are pretty lucky to do what we do."
To keep up with Devon Amos and Hal Burns Racing over the off season you can find them on Facebook @halburnsrcing or on Instagram @devonamos. Further information such as rules, driver profiles, and series history is available online at www.nmmra.com or "Like" NMMRA on Facebook.
For more information, results, press releases, and schedules for all POWRi Racing Leagues, you can visit www.powri.com online, like POWRi on Facebook, and follow @POWRi_Racing on Twitter.